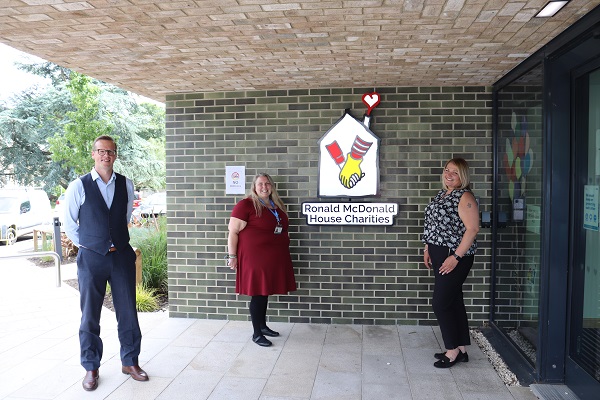 WASHCO delights Ronald McDonald House with laundry
supplies
WASHCO has come to the rescue of a local charity by donating three months' worth of laundry chemical supplies to Ronald McDonald House Oxford.
The arrival of Covid-19 in 2020 has had a massive impact on the charity sector, with many causes struggling to raise the necessary funds to survive at a time where many fundraising events have been cancelled. Despite this, Ronald McDonald House Charities UK succeeded in opening its new 62-bedroom facility at Oxford's John Radcliffe Hospital and has continued its commitment to providing free accommodation to families with sick children in hospital.
The Oxford facility is just one of their many Houses in the UK that are all situated in or near hospital grounds to enable seriously ill children to have their families close by when they are undergoing treatment. These facilities, which include dedicated laundry rooms, are a vital form of support for the children and families, helping them to maintain a degree of normal life.
Of their support for Ronald McDonald House Charities UK, WASHCO Sales Director, James Holmes, said:
"We have been impressed by the impact that Ronald McDonald House has for those parents with a child in hospital, particularly over the last year.  As many of our customers are in social care, we are acutely aware that charities have played a critical role in maintaining safety and infection control during the pandemic and, as a business, we are committed to giving back to our communities."
"When I heard that the new House had opened at the JR for families with a sick child in hospital, we considered how we could best support the charity at a time when fundraising is very tough, and decided a product donation would have the most impact".
Reading mum Claire Willis said, "When our son Teddy had surgery at the age of one, we could not have coped as a family without Ronald McDonald House. Having a room meant everything to us, we could function, we could go to bed and rest but we had a phone by our bed with a direct line to the ward & intensive care. We had access to washing machines, dryers and irons, so when Teddy was very ill after his surgery and was sick all on his comfort blanket, within an hour it was washed and tumble dried. You can't appreciate what the facility means until you experience it"
Ronald McDonald House Charities UK Fundraiser, Caroline Sinclair, added,
"We were overwhelmed when James and the WASHCO team got in touch to offer laundry chemicals to us, saving us a huge cost. We do all our laundry in-house and families staying with us also have access to a laundry room so this is a significant help to us"
For the latest news and updates about Ronald McDonald House Charities UK visit www.rmhc.org.uk.