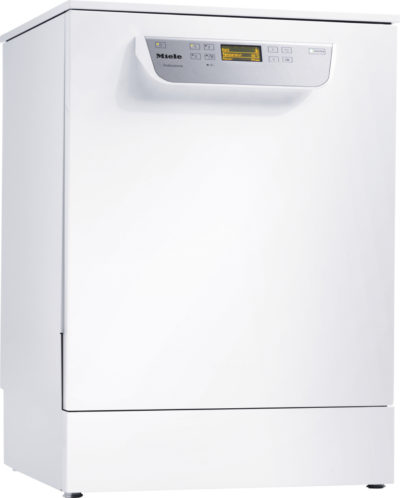 Intelligent Dishwashing Technology
Offering a maximum cleaning performance of 200 plates/h. A hot water inlet and powerful heat pump ensure optimum programme durations. Permanent filtering of the suds solution results in optimum cleaning results whilst protecting the machine from damage for a long service life.
Fast Dishwashing Turnaround 
Offering very short cycle times combined with sparkling results.
Perfect Shiny Glasses
Featuring Miele's Perfect GlassCare which adjusts the water hardness precisely so that glasses are thoroughly, but gently cleaned.
Simple to Use
All programmes can be selected quickly & started at the touch of a button.
Making Things Easy
The upper basket height can be adjusted to suit different loads
The patented in-door salt container can be refilled without needing to remove the lower basket
MIELE PG 8055 SPEED 
Capacity: Up to 200 plates/h
Power: Electric
Integration: Freestanding
Dimensions: 835mm(H) x 600mm(W) x 600mm(D)