Unfolding students' laundry habits
In order to understand what students want from their launderettes, we surveyed 1,000 students via panel research and used data from 463k transactions.
Do different genders have different concerns?
Within the research, we did see some differences between genders. More females than males highlighted that WiFi was most important to them when choosing their accommodation. Conversely, more males than females highlighted that the laundry facilities were most important to them when choosing accommodation.
This theme was continued as 31% of males indicated they use their launderette twice a week whilst only 15% of females used their launderette twice a week. In fact, 32% of females never used their launderette compared to only 11% of males.
We also asked students what concerned them most when doing their laundry. Female students were most concerned about shrinking their clothes in the tumble dryer. Male students, on the other hand, were more concerned about choosing the wrong programme or overfilling the machines.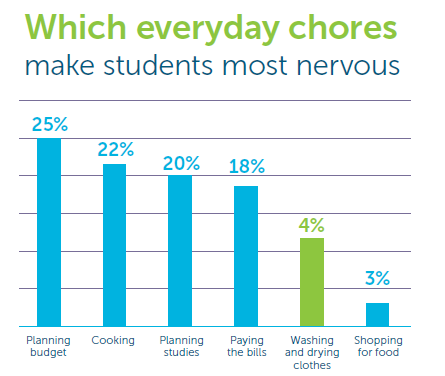 Across both genders, the everyday chores which made them most nervous were planning their budget (25%) and cooking their own meals (22%). Laundry was less of a worry with only 12% of respondents indicating that it made them the most nervous.
Payment made simple
Across both genders, the preferred payment method is by bank card or mobile payment, eg, ApplePay, accounting for 64% of respondents.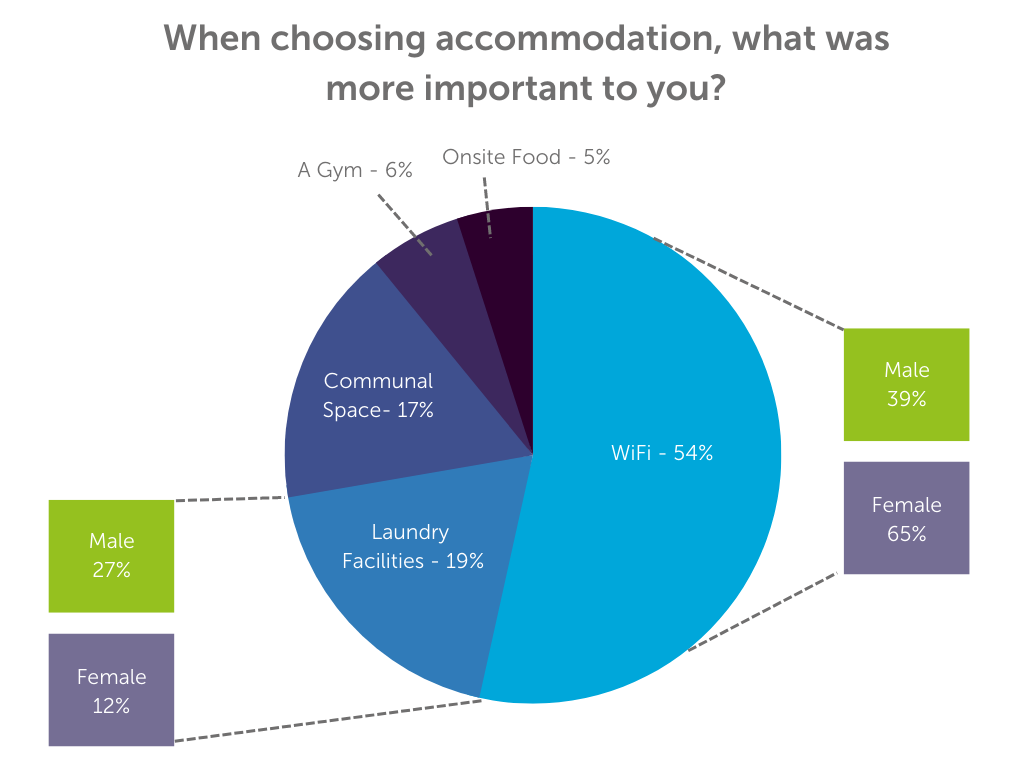 Asking for help

One of the most surprising results from the research is how students like to contact their launderette provider.
Our assumption was that social channels such as Messenger and Instagram would be the most popular. However, these were only the preferred channels for 6% of respondents.
In fact, the most popular channel indicated for contacting their launderette provider was by telephone followed by email and chat.
Perhaps unsurprisingly, for students 25 and older, a whopping 50% chose the telephone as their preferred method of communication.
Laundry Habits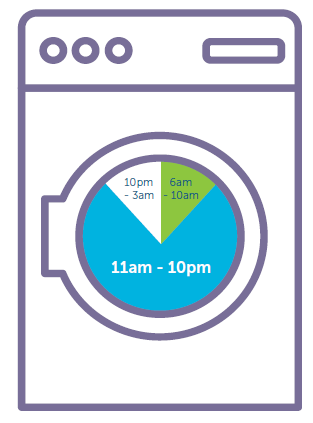 The majority of students (75%) do their laundry between 11 am in the morning and 10 pm at night. There is a small percentage of early birds who are washing between 6 am and 10 am and night owls visiting the launderettes between 10 pm and 3 am. However, across all transactions recorded in the last 6 months, no one was doing their laundry between 3 am and 6 am.
From our service data, we can see that the most common issues within the launderettes are drum imbalance and door lock issues.
The most common cause of a drum imbalance is when the drum is overfilled. When this happens, the machines work to protect themselves and reduce the spin speed to prevent mechanical damage. The outcome is that the students' clothes will be wetter than normal and require longer in the dryer.
We call issues with door locks our 'Goldilocks' issue. Students will contact us because the machine hasn't started. The most common reason for this fault is that they haven't closed the door firmly enough. We then ask the students to firmly close the door and then some students, slam the door causing the door lock to break. So just like Goldilocks, it has to be just right.
Is auto-dosing the future?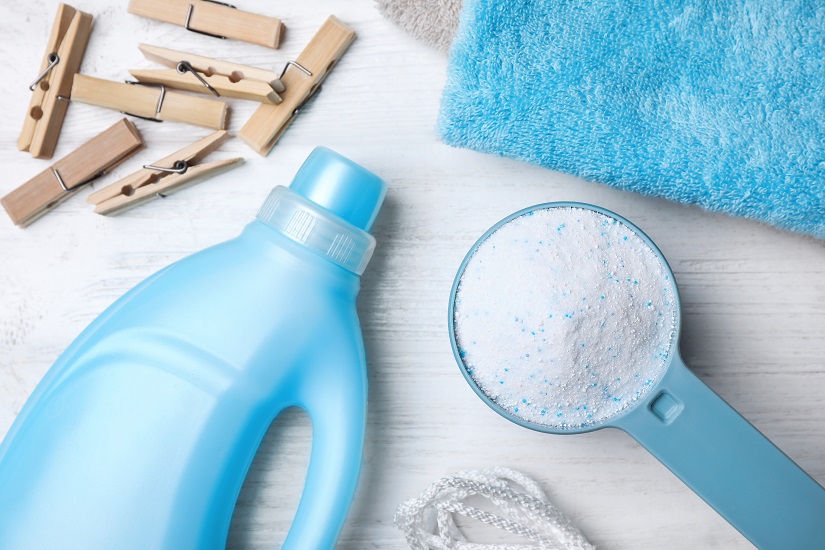 62% of respondents said that they would like a student launderette to automatically dispense (auto-dose) detergents and fabric conditioners into the machines.
There are some advantages to auto-dosing. Breakdowns caused by the overuse of soaps and fabric conditioners are less likely and it also results in a tidier launderette. No leftover containers, soap down the front of the machine etc.
And if the use of soaps and fabric conditioners is regulated, it's also better for the environment with fewer chemicals being used and a reduction in single-use plastics.
One question we are often asked is if biological detergents are responsible for skin irritation. In fact, there is no proof that the enzymes used in modern formulations are responsible for skin irritations and biological detergents have the advantage of better results at lower temperatures.