We had the privilege of chatting with one of our customers, Tim Woodman-Clarke, who heads the Residences and Campus Cleaning Services at the University of Warwick.
Our conversation centred on the key factors involved in creating and sustaining a successful managed laundry solution as they've seen student satisfaction in this area increase by 34% since 2019.
Know what's important to your students
WASHPOINT: Our research shows that laundry isn't that important to students. They've got lots of other things to worry about and really just want to know they're doing it right. However, we also know from our customers, that it can cause lots of noise so it's important to get it right.
Tim: I joined the University of Warwick five years ago and one of the things that became very apparent was the dissatisfaction that our students had with our laundry services. We've got 7,500 beds on campus and 31 laundries so a big laundry provision across campus. In 2019 student satisfaction in this area was only at 28% and we had constant complaints. It felt like we were constantly being bombarded with issues with the laundry which was taking our focus off other things. So as your research indicates, it's not that important to students until it's not working very well and then of a sudden it becomes very important. So like anything, if students aren't happy with it, it suddenly becomes the top of the agenda. That's why we went to tender and started our relationship with WASHPOINT.
Look for Hidden Savings
Hidden auto-dosing savings
WASHPOINT: We introduced auto-dosing into Warwick (where the detergent and fabric conditioner are supplied by WASHPOINT and automatically dispensed into the wash). We knew it had lots of benefits including a reduction in breakdowns and a reduction in single-use plastics slide but from our conversations, there are savings we didn't consider.
Tim: That's true. There were 31 laundry facilities scattered throughout the campus, which required daily cleaning. These rooms were often filled with lint, fluff, and washing powder residue. Due to the fact that students frequently used low-cost washing powder, the machines tended to become clogged, necessitating a thorough cleaning of all laundries on a daily basis.
Moving forward to auto-dosing, we're now finding we only need to clean those laundries once or twice a week. They stay remarkably clean as there is less mess being created in the laundries than before. As a result, we have been able to save a substantial amount on staffing costs. In fact, we have eliminated 31 hours of cleaning four days a week.
WASHPOINT: Some universities we've spoken with have been concerned about managing allergies to washing powders if auto-dosing is in place. What's your experience?
Tim: We moved to auto-dosing at my previous university so I was pretty confident we could manage this issue however Warwick was quite nervous. Many people have various allergies and clothes detergent always seems to be one of those triggers. But, the reality is that we've had very, very few issues. If students are concerned about the products we share the product datasheets so they can see they're hypoallergenic etc. We've also kept one facility without auto-dosing for use by those with severe allergies who want to use their own products. But actually, considering we've got 7,500 students on campus, it's not an issue at all. It really isn't.
Increasing capacity with technology
WASHPOINT: During our conversation, you mentioned that the introduction of WASHPOINT Live has helped managed capacity in the laundries.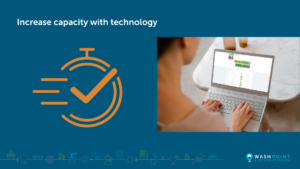 Tim: One of the students' biggest frustrations, often resulting in complaints, is going to the laundry only to find there are no machines available. It's not really something that's our fault. Many students tend to start their wash early in the morning before attending classes or late at night before going to sleep, and they often forget to get their clothes. Other students will then take their laundry out of the machine causing upset.
WASHPOINT Live really solved this issue. Students can see from the comfort of their room if a machine's free and pop down to do their washing. They get the alert reminding them when it's finished so it's really improved the peak flows we see in our laundry and the backlog students were facing.
Focus on the basics
Making it easy to pay
Tim: Payment is an area where we've seen lots of changes and it's important to get it right. I remember when we used to keep pots of £1 coins and 20 pence pieces on our reception. Thankfully technology progressed and we moved to prepayment cards. That was great, it made a big difference but there were still challenges; students forgetting to top them up, losing their cards and going through the rigmarole of trying to get their money back etc.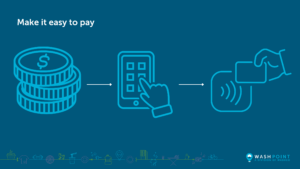 The big difference was when we moved to contactless payment. Over half of our accommodation residents are international students and they obviously have different payment methods. It's not just the usual Mastercard, Visa etc. The WASHPOINT contactless system is global so accepts all payment methods and students can use wallets like ApplePay on their phones. Again, it's taken away a headache, making it much more accessible and easier.
WASHPOINT: It also helps us provide a better service. If the students need a refund we can sort that out easily in the backend and pinpoint when they used the machine, and what they need. There's more information which helps us give a better service to the students.
Make it easy to get help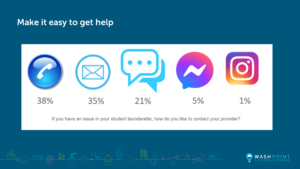 WASHPOINT: Before we carried out our research, we assumed that social media would be students' channel of choice for getting in touch with us. However, it showed that telephone and email were the most popular. It reminded us that we had to make sure we give students lots of options to make it easy for them to contact us.
Tim: I'm with the students all the way! I'd much rather pick up the phone.
Continue to progress the partnership
WASHPOINT: Managed laundry contracts can be fairly long-term so we think it's important to drive continuous progress. For example, we've updated how WASHPOINT laundries look, improving the student experience. We know laundries might not always be the best room on campus but at least we can make it somewhere that you don't mind spending some time.
We also make sure that we support our partners' events, for example, we always attend Warwick's Freshers Week.
Tim: Obviously we were delighted when we appointed WASHPOINT because you came in and refurbished all our laundries, turning them from quite dreary spaces into something more modern and fresh. We've been with you for three years and you're already going through now and refreshing your laundries which is great. We're having areas which are being refurbed and refreshed and it's not costing us anything.
Lookout for future trends
The 'Dot Cotton' service
WASHPOINT: Intriguingly Tim, you mentioned the 'Dot Cotton' service as a future potential offer.
Tim: We're always looking at future-proofing and improving our services to students and what can we do that's better. We have quite a lot of wealthy students at Warwick who like to use services and one of the things that's coming out is that they'd quite like a 'Dot Cotton' type service wash. The kind of service wash where they can drop their washing off, have it all washed and dried for them and they can collect it. We'd always keep that laundry provision, but there are those more wealthy students that would really love this type service so we're looking into it.
We've got one laundry, which was previously run by the student union and is now being handed over to us, and we're looking at the possibility of creating that service wash provision in there because it's right in the centre of campus. We might even go one step further offering a laundry delivery and collection service for the students. We'd provide them with a laundry bag, they put their laundry in it, we collect it, process it and deliver it back again. So we're looking at these things for the future. We're also looking at whether we can offer dry cleaning on campus. Lots of students have items of clothing that needs specialist dry cleaning. We're constantly looking forward.
Fully-inclusive laundry
WASHPOINT: A trend that we're seeing is a fully-inclusive model, where laundry is included in the accommodation rent. It raises some interesting questions: environmentally, how it's managed etc
Tim: We've not looked at this before as it's only just started to come into the market but we know there are providers who are including free-vend laundry into their rent. That's good because the more we can include in the rent, the better it is for the student, but for me, it has one big negative which is the environmental impact.
Most universities and more companies are heading towards net zero, trying to reduce our carbon footprint and become more sustainable. My worry for this would be that if your laundry is free it will encourage students to go and wash very small loads rather than a full load. That's the thing that needs resolving in my mind. Would it lead to a massive increase in the use of water, cleaning chemicals and electricity? I guess until it's tried and tested we don't necessarily know.
If you want to find out how WASHPOINT can support you then please contact us at sales@washco.co.uk or call us on 08000 546 546.