Wellington
College
After working with Wellington College for 20 years, WASHCO were delighted to be asked to design, supply and fit their new purpose-built laundry.
The prestigious school in Crowthorne, Berkshire, has over 1100 boarders and needs to provide a high-quality finish for their school uniforms and other clothing. Their old laundry had reached the limits of its capacity and WASHCO worked with the college to build a modern laundry that will serve them for many years to come.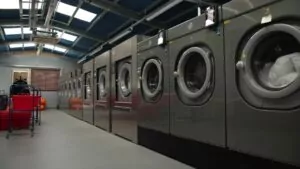 WASHCO installed WASHCONNECT machines that are more economical, fully programmable and with the capacity that the college needs to meet future demand. Bespoke programmes can be built remotely and dropped onto the machines from the cloud, without an engineer needing to be on site.
Wellington were really pleased with the results. Graham Heffer, General Services Manager for the college said
"The relationship we've been building with WASHCO is brilliant. We're really happy with the laundry. It looks amazing – they've done a brilliant job"
View the video case study below to show the spectacular results.