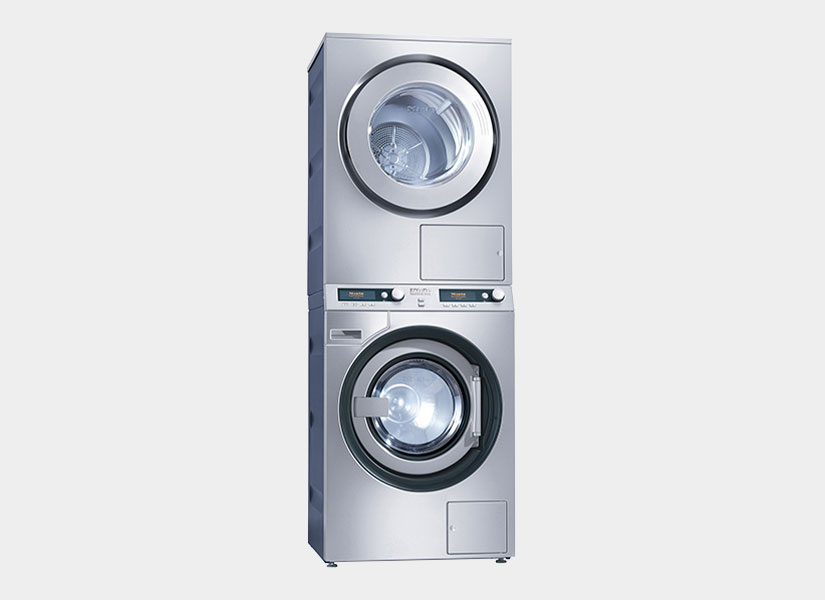 Quick and efficient
Stacked Washing machine & dryer combination of the PW 6080 washer and PT 7186 Dryer. With a small footprint it takes up less room in your laundry for a wide spectrum of customer applications,
Short programme cycle times allow you to benefit from meeting the high demands of washing while not compromising quality
Hygienically clean laundry
Inbuilt programs for thermal disinfection gives you the reassurance your laundry comes out clean and safe, especially within a hospital and care home environment.
Patented honeycomb drum ensures the gentle care of fabrics while producing an outstanding cleaning performance
Energy-saving, simple use
With low water, energy and detergent consumptions, the Miele 6089XL has been designed with the environment in mind.
Profitronic L Vario mid control panel provides a multi-function selector and user navigation screen. Programme delay and time left display to enable the user to manage their time efficiently.
8kg washing machine
Capacity: 8kg (80-litre drum)
Heat Input Options: Electric
Dimensions: 1020mm(H) x 700mm(W) x 700mm(D)
Drainage: Drain Pump